Projets de recherche
Titre
Wireless sensors network as a base solution for environmental water quality assessment and monitoring
Résumé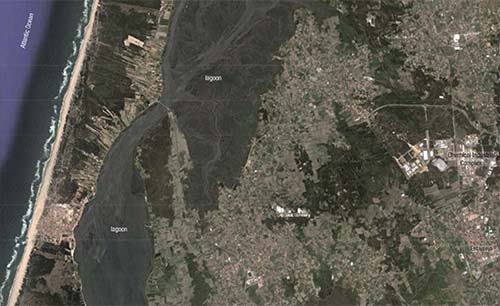 Given the rising environmental awareness scientist from all over the world highlight that water quality is essential for a healthy development of aquatic ecosystems and humans. The analysis of the human‐environment interaction process and their evolution are among the OHM main goals. Therefore, the permanent monitoring of heavy metals released into natural water bodies by industrial wastewater discharges in water, surrounding the OHM sites, has become essential.
This project aims to improve the water quality control by a real time wireless monitoring of the metals inputs (Hg, Cr and Cd) into the water body. A smart sensor wireless network system will be developed and used to monitor and predict the risk of water contamination by such hazardous substances, which have very harmful effects on human health and environment, including loss of biodiversity of aquatic ecosystems, even at extremely low concentrations, due to their high toxicity. The Estarreja Municipality lagoon, an important source of irrigation waters for the region, will be monitored and the results will allow the understanding of the Estarreja Chemical Industrial Complex influence on the surrounding ecosystems.

Carla Candeias obtained a 5-year degree in Geosciences Engineering in 2006, at the University of Aveiro, Portugal, where she later obtained a Master and a PhD in Geosciences in 2008 and 2013, respectively. The PhD was concluded with classified with the maximum grade: unanimity approval with high distinction and commendation. The main research areas are Medical Geology and Environment Geochemistry. Additional training gave her extra knowledge in toxicology (EUROTOX Advanced Toxicology course) and advanced statistical analysis skills with different media samples (e.g. ANOVA's, Risk). Is the Master student's co-supervisor. Has several scientific papers (reviewed by peers, IF > 1) published, being the majority as first author. She has experience in planning and organizing national and international scientific meetings, e.g. SWIM21 (2010), MEDGEO (2015), know-how in national and international projects applications and familiarity in working with academic and private organizations, having an effective science communication ability. His an invited reviewer of International Journals for Scientific Research, e.g. Environment International (IF 6.122), Science of Total Environment (IF 3.789) and has reports writing practice. Also is available for national and international travelling. She has been establishing collaborations in the Medical Geology area with other countries (e.g. Cape Verde). Knowledge of Portuguese (native), English (fluent), French, Spanish and Italian. She has computer literacy with several software (ArcGis, SPSS, Surfer, RockWorks, Statistica, Freehand MX, Adobe CS6, among others).
Participants
Academic Degrees


Graduated in Geological Engineering - Coimbra University, Portugal,


Master of Sciences in Geochemistry - Aveiro University, Portugal.


PhD in Environmental Geochemistry - Aveiro University , Portugal


Occupation


Auxiliary Researcher at National Laboratory of Energy and Geology (LNEG)


Scientific Areas of Research


Environmental Geochemistry


Abandoned and active mines environmental impact


Chemical elements mobility in exogenous environments


Interaction water/rock


Risk Assessment methodologies


Environmental rehabilitation


Geochemistry applied to ore exploration


Ore petrology and environmental mineralogy


Project management experience


Experience in scientific and financial management in European and Iberoamerican Projects.


Publications in Peer reviewer journals(some of the most representative)


Ávila, P.F.;Santos Oliveira, J.M.; Ferreira da Silva, E. and Cardoso Fonseca, E. (2005). "Geochemical signatures and mechanisms of trace elements...